A meeting of the Forum was held under the chairmanship of Chairman PAT Dr Muhammad Tahir-ul-Qadri at Central Secretariat PAT. The meeting continued for four hours. It was extensively attended by the Christian counterparts including Bishop Samuel Izraia, Bishop Andrew Francis special advisor to Pope Jan Pal II for Asia, Father James Chanan OP, accompanied by 125 Bishops, leaders, fathers and priests. This was heartening to see that the delegation comprised both the Catholic as well as Protestant members.
The matters that came under discussion included the minority rights under the constitution of Pakistan and Islam. The meeting decided to work for interfaith harmony, tolerance and elimination of extremist trends from the society. It was specially observed that both the communities will jointly work to eliminate hatred culture and terrorist tendencies from the society.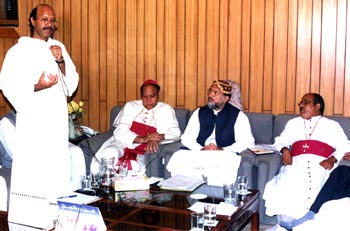 The meeting also discussed appropriate measures to spread the message of the Forum in four provinces of Pakistan, the Federal Capital Islamabad and in the foreign world. Shaykh-ul-Islam Dr Tahir-ul-Qadri emphasized that they intended to create interfaith harmony on the bases of humanitarian and patriotic values so that people from all sections of the society work jointly and coherently for the development and progress of the country.
It was decided that the central executive of MCDF would comprise 30 members 15 Muslim and 15 Christian. A working group was also formulated within the central executive to design programmes, formulate the Executive's agenda and implementation of decisions.
A women interfaith group was also formulated to achieve the objectives of the forum among the womanfolk as well.
Later Dr Tahir-ul-Qadri told the newsmen that the first ever Muslim Christian Walk will be conducted on the Mall Lahore lead by politico religious leaders in addition to social workers belonging to both the communities. Ladies and children will also join the walk.
Moreover the X-miss celebrations well also be held jointly before which a roundtable conference will be organized to address the mutual issues.