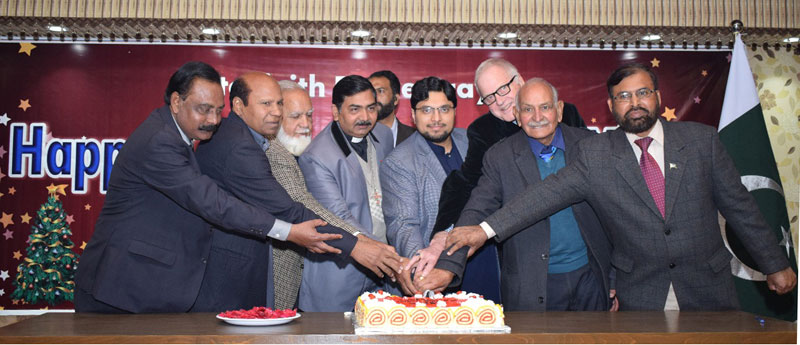 Deputy Chairman Board of Governors of Minhaj University Lahore (MUL), Dr Hussain Mohi-ud-Din Qadri has said that for establishment of durable peace in the world, it is important that the followers of all religions respect one another's teachings and ideologies. He said that secret to peace and stability lies in interfaith dialogue and harmony.
Dr Hussain expressed these views while addressing a ceremony held to mark Christmas and arrival of New Year under the banner of Schools of Religions of Philosophy of Minhaj University Lahore. A Christmas cake was also cut on the occasion. Vice Chancellor Prof. Dr. Muhammad Aslam Ghauri, Head of School of Religions & Philosophy MUL Dr Harman Roborgh, Director Interfaith Relations Sohail Ahmad Raza, Ex. Bishop of Peshawar Church of Pakistan Bishop Mano Rumalshah, Director Peace Centre Catholic Church of Pakistan Dr. Fr. James Channan, Christian Scholar Dr Kanwal Feroz, Chairman Gospal Mission of Pakistan Rev. Dr Marqus Fida, Pastor Incharge Saint Andrews Presbyterian Church Lahore Rev. Hanook Haq, Executive Sec. All Pakistan Council of Churches Dr Victor Azarya, Moderator Presbyterian Church of Lahore Rev. Amjad Niamat, Pastor Incharge Saint Thomas Church Lahore Rev. Samuel Nawab, Pastor Siddique Paul (Australia), Pastor Presbyterian Church Youhanabad Faraz Masih, Director SATH Pakistan Kashif Nawab and School of Religions & Philosophy MUL Naseem Sadiq Masih participated in the ceremony.
Dr Harman, the Head of Department, presented the welcome address. Sohail Ahmad Raza conducted the proceedings of the programme. The peace songs were sung on the occasion. Bishop Mano Rumalshah prayed for peace and stability. The guests were made to visit different faculties of the university.
Dr Hussain Mohi-ud-Din Qadri, who was chief guest on the occasion, said that the Christian community has been playing their role in the progress and prosperity of the country. He said that Pakistan belongs to all communities without any discrimination of caste, creed and colour. The Christian leaders paid a rich tribute to Dr Tahir-ul-Qadri for his services and contributions for promotion of peace, interfaith dialogue and human brotherhood. They also appreciated MQI for playing the role of a bridge among the members of different faiths.