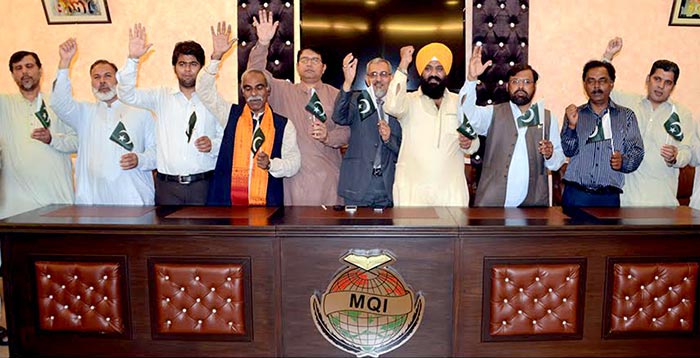 An important ceremony was held under the banner of the MQI Directorate of Interfaith Relations and the Centre for Human Rights Education to mark the National Day of the Minorities on August 11. The faith leaders belonging to various communities and religion spoke at the ceremony. Those who addressed the ceremony included Samson Rahmat, Pundit Baghat Lal, Sardar Raam Singh, Shabnam Nagi Advocate, and Sabeena Joseph etc.
Speaking on the occasion, Sohail Ahmad Raza, Director of Interfaith Relations, said that the Quaid-e-Azam paid rich tributes to the leaders and followers of different faiths who played important role in achievement of Pakistan in his address to the first Constituent Assembly. He said that the Quaid envisaged Pakistan to be a great Muslim state where minorities will have equality of rights and complete independence to profess and practice their religion.
Sohail Raza said that the Constitution of Pakistan guarantees protection of rights of all minorities. He said that August 11 is the day of reiteration of our pledge to work for equality and conferment of equal rights on all citizens irrespective of their creed, colour and cast. He said that it is the day to highlight the role of the non-Muslims in the establishment of Pakistan and pay rich tributes to their contributions and sacrifices.
Sohail Raza said that the Interfaith Relations will continue to struggle for equal and fundamental rights for all citizens without any discrimination under the leadership of Dr Muhammad Tahir-ul-Qadri. He said that we would make Pakistan a realization of the Quaid-e-Azam's dreams and ideals under the leadership of Dr Qadri.
Hindu leader Pundit Baghat Lal said in his speech that August 11 is an important day for promotion of interfaith dialogue, love and moderation in the country. He said that the Government of Pakistan is obligated to ensure delivery of all rights to the minority communities under the Islamic law and the Constitution of Pakistan. He said that the rulers should consider the protection of worship place of the non-Muslims and their progress as their foremost duty.
Shabnam Nagi Advocate said that Pakistan is the only country in the world where all religions and their followers are respected.
Other speakers also spoke on the occasion.