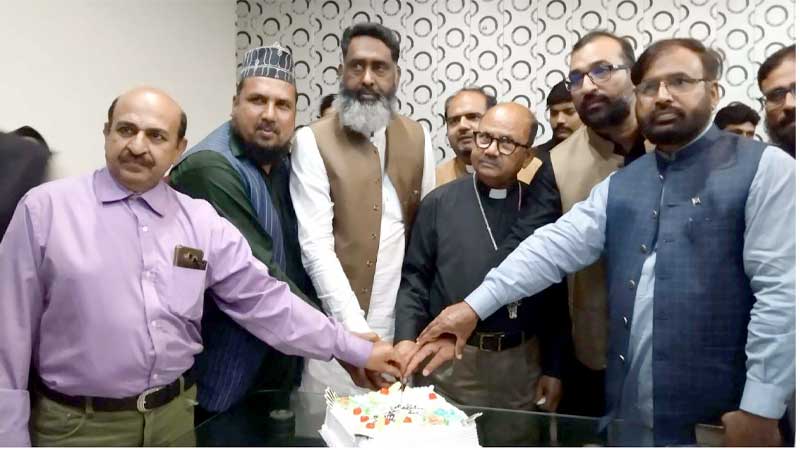 Muslim-Christian Dialogue Forum (MCDF), a flagship forum under the MQI's banner, has completed twenty five years since its inception. A ceremony was held in Kartarpur to celebrate the silver jubilee.
Bishop Dr. Robert Samuel Uzria, the founding member of MCDF and Director Christian Study Center Rawalpindi, Reverend Rocky, Reverend Samuel Messi, Pastor Pervez Michael, Pastor James, Pastor Hamran, Pastor Haroon Gil, Pandit Bhagat Lal, Allama Qasim Ali Qasmi, Allama Asghar Arif Chishti, Allama Hafiz Anas, Maulana Ashiq Salfi, Tayyab Zia Noorani, Shahzad Ahmad Khan, and the members of Muslim and Christian communities attended the ceremony.
Addressing the golden jubilee celebration of MCDF, Sohail Ahmad Raza, Director of Interfaith Relations, said that Dr. Muhammad Tahir-ul-Qadri established the Forum to promote understanding and dialogue between Islam and Christianity. He said that the Forum was meant to provide an avenue for engagement to the leaders of both the communities to foster dialogue, peace and harmony. He said that different interfaith events are held under the banner of MCDF that are aimed at furthering the spirit of brotherhood, peace, harmony and dialogue.
Sohail Ahmad Raza said that the people would have to change their behaviors for a social change in society. He said that Shaykh-ul-Islam Dr. Muhammad Tahir-ul-Qadri is waging a scholarly struggle at the global level for the protection of human rights and to foster a culture of tolerance and dialogue between different cultures, and civilizations. He said that the peaceful teachings of all religions lead to the establishment of a global society based on the shared values of brotherhood. He also highlighted the various initiatives taken by MQI to achieve the objectives of international solidarity, interfaith dialogue and peace.
The Christian faith leaders lauded the role of MQI under the leadership of Dr. Tahir-ul-Qadri in promoting the spirit of interfaith brotherhood, peace and harmony. They said that Dr. Qadri's name has become a credible reference for the interfaith harmony. They said that he played a leading role in raising awareness against the dangers of militancy and terrorism and exposing those who misinterpret the teachings of Islam to promote their heinous agendas. They vowed to keep supporting Dr. Tahir-ul-Qadri in his mission of building a peaceful world where members of all communities live in peace and harmony.