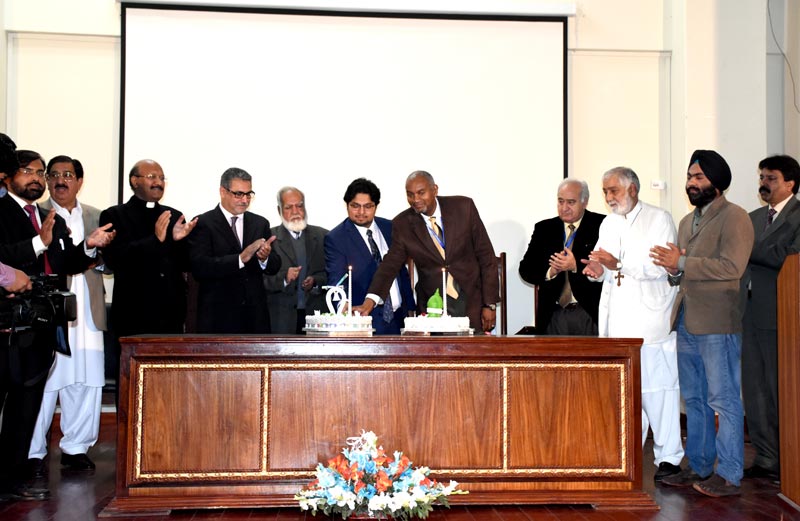 The Muslim and Christian communities will have to forge unity in their ranks to defeat monsters of terrorism and extremism. The practice of proving oneself right and others wrong should come to an end. How can Islam approve of taking lives of humans when it has determined rights for the animals?
Dr Hussain Mohi-ud-Din Qadri, President of MQI Federal Council and Vice Chairman of Board of Governors of Minhaj University, expressed these views while addressing a seminar on the subject of "Peace on Earth" held at the F.C. College University on December 8, 2015. The seminar was held jointly under the banner of Department of Dialogue and Action of the F.C. College University and Minhaj University Lahore. Vice President of FC College University John Joseph, Dr. Charles Ramsey, Dr Muhammad Aslam Ghauri, Vice Chancellor of Minhaj University, Dr Hamid Saeed, Registrar FC University, Dr Robert, Father James Chanan, Bishop Munawar Mill, Urwan Kamal, Parkash Singh, Dr Naseer Ahmad, and Sohail Ahmad Raza spoke on the occasion. Khurram Nawaz Gandapur, GM Malik, Major (r ) Muhammad Saeed, Col. (r ) Ahmad; Registrar of Minhaj University, Sajjad-ul-Aziz, Javed Iqbal Qadri, and Sajid Bhatti were among the distinguished guests who attended the seminar.
Dr Hussain Mohi-ud-Din Qadri said that Allah Almighty sent the Prophets to the world to spread knowledge; uphold justice and promote peace. He said that the Sufis painted real picture of Islamic teachings. He said that our message from his platform is that it is our collective and individual duty to spread the message of peace and love. He said that it is in nature of man to love, adding that we should love our country and the world we are living in. He said that we have wasted our energies on proving that we are right and others are wrong. He said that this attitude of exclusion has hurt us badly and created differences among human beings.
Registrar of the FC College University Hamid Saeed welcomed Dr Hussain Mohi-ud-Din Qadri on arrival in the University and said that Dr Tahir-ul-Qadri delivered a thought-provoking lecture at the FC College back in 1981 on the subject of "Revolution from eyes of Islam", which we remember even today. He said that we are happy to know that the sons of Dr Qadri are true inheritors of his scholarly legacy.
Dr John Joseph, while speaking on the occasion, said that Islamic Curriculum on Peace and Counter-Terrorism authored by Dr Tahir-ul-Qadri is not only service of Islam but also of the whole humanity.
Former Education Minister of Punjab Imran Masood underlined the need of a dialogue in the universities in order to promote interfaith harmony. He paid rich tribute to Dr Tahir-ul-Qadri on presenting real picture of Islam in the world.
Dr Charles Ramsey said that upholding the banner of justice and promoting knowledge in the society is real worship and service. He said that we are happy that Islamic scholars are guiding the young generation by rejecting terrorism and extremism in the light of the holy Quran and Sunna. He said that associating terrorism with Islam is intellectual dishonesty.
Cakes were cut in connection with birth anniversaries of Jesus Christ and the Holy Prophet (SAW) at the end of seminar. Dr Hussain Mohi-ud-Din Qadri and Dr John Joseph ignited candles of peace along with the students of Minhaj University and FC College University. They resolved that the students of both universities will work together for establishment of local and international peace and promotion of peace and interfaith harmony in their respective communities and the world at large. They also vowed to include students of other universities and educational institutions in this struggle. Sohail Ahmad Raza, Director of MQI Interfaith Relations, was given an award in recognition of his efforts for promotion of interfaith harmony.