Kashmir issue biggest hurdle in way of establishment of peace: Speakers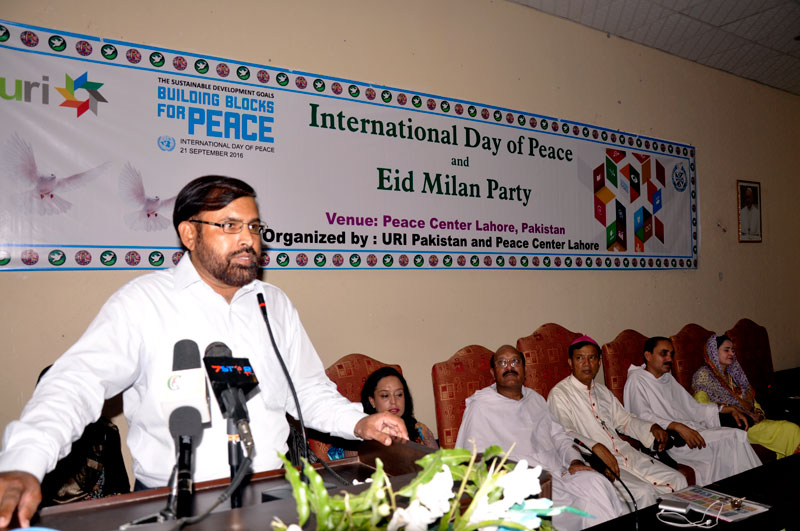 A ceremony was held in Lahore to mark the International Day of Peace which was presided over by Bishop Sebastian Francis, whereas Sohail Ahmad Raza, Director Minhaj-ul-Quran Interfaith Relations and James Chanun were the chief guests. The Peace Day event was attended by faith leaders and people in large number.
Addressing the ceremony, MQI leader Sohail Raza said that the Kashmir issue is the biggest hurdle in the establishment of global peace. He said that resolution of the issue in line with the UN resolutions is essential for regional peace and stability. He demanded that curfew should be ended in Indian held Kashmir and the people should be allowed to resume their normal lives including the exercise of right to religious and political freedom. He asked the Indian authorities to mete out even handed and fair treatment to all minority communities living in India in accordance with the UN conventions and laws.
Sohail Ahmad Raza said that the followers of all religions will have to foster the culture of respect and tolerance for establishment of peace in the world. He said that the world continues to be consumed by fire of terrorism, adding that the all religions need to come together on the single point agenda of establishment of durable peace. He said that the world leaders have their job cut out for themselves in this respect. He said that PAT Chairman Dr Muhammad Tahir-ul-Qadri is playing the role of an advocate of peace and bridge builder in the world. He said that MQI set up by him is working for peace around 90 countries.
Dr James Chanun said that no religion of the world allows violence and taking away the life of innocent people. He said that parochial political interests are the biggest reason of bloodbath that we witness today.
Sikh leader Sardar Bishan Singh paid rich tributes to Dr Tahir-ul-Qadri and MQI on leading from the front in the struggle against terrorism and for establishment of interfaith harmony. Different faith leaders released pigeons and balloons in the air at the end of ceremony. They also prayed for establishment of peace in the world.